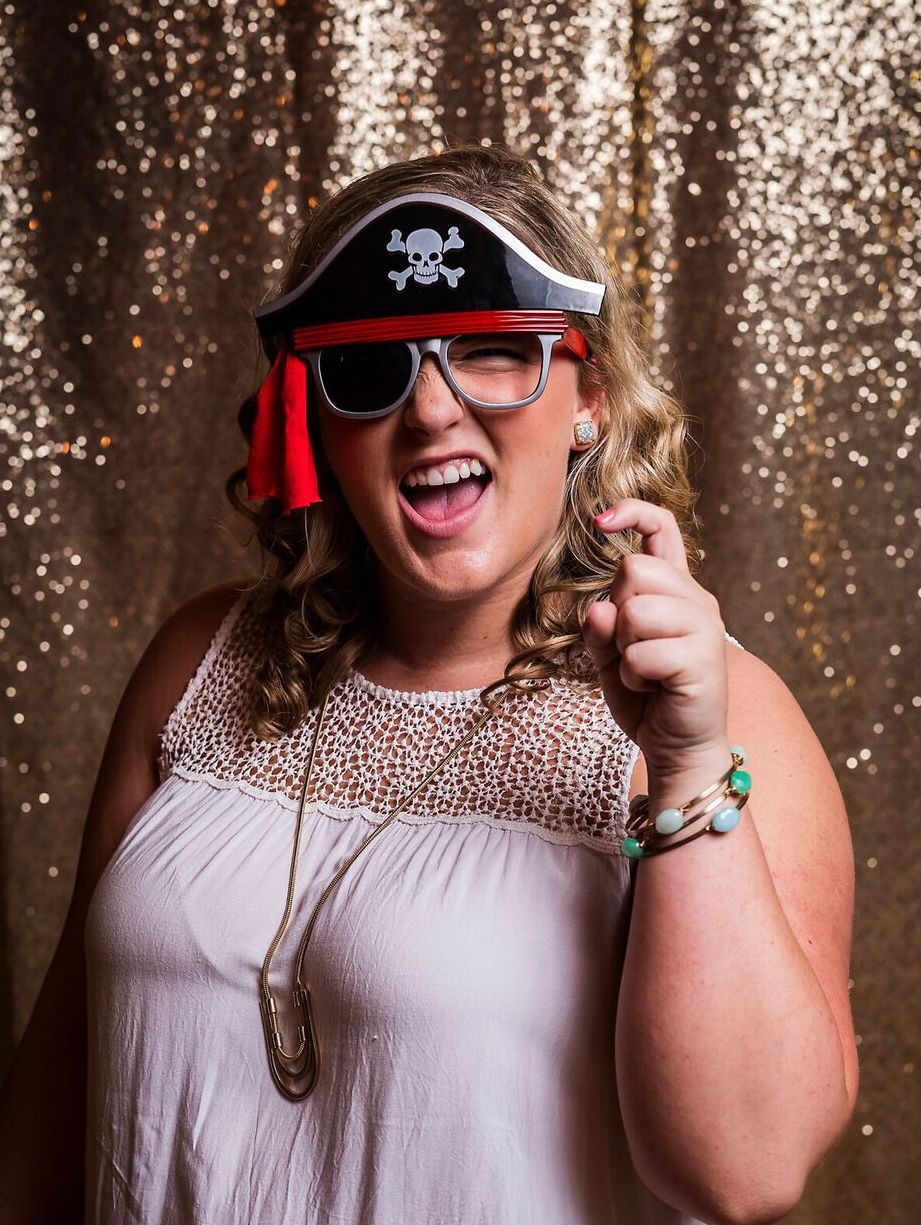 Name: Nadine Willis
Position: Office Assistant & Photo Booth Attendant
 How long have you been working for Snapqube? Two, going on three super fun years!
It's pretty obvious what you do as a photo booth attendant, but what do you do as the office assistant? I help Lindsay with basically whatever she needs help with! I'm her right hand girl for lack of better words. You will find me mostly prepping the booths for the upcoming events, downloading events after they're all said and done, meeting with clients and attending all the local vendor events around the Hampton Roads area.
Do you have a favorite wedding/event that you worked since working at Snapqube? Hmm! If I had to pick my favorite wedding (which is super hard to do btw) I'd have to say that I absolutely fell in love with a wedding at Holly Ridge Manor. Jamie, from Jamie Lee Events was the coordinator and honestly I could not have drawn up a more beautiful wedding. It was my dream wedding through and through! I even went over to Jamie at the end of the night when we were breaking down and asked her how much a wedding like this would cost me JUST so I knew how much I needed to start saving up! As for a favorite event, I absolutely love the Crystal Clear Event that Waterford Event Rentals puts on each March! It is just so amazing watching all the local wedding planners come in and create the most elaborate and beautiful table settings. I feel like I'm flipping pages through a high end wedding magazine when I walk through the room. It is so amazing and y'all need to check it out this March if y'all haven't done so yet!
 What is something the world wouldn't know about you by just looking at you? I am extremely shy around big crowds. My face and my chest get all red and blotchy, so if you see me I promise I'm not ill, I'm just nervous! I've been working on trying to speak up more and get my name out there along with Snapqube's name, but it's so terrifying sometimes in the wedding world. Not in the sense because everyone is mean but because everyone is so tight knit and no one likes being the new kid. Honestly though, all the people I have met thus far have been the SWEETEST and so welcoming and I give myself such a hard time for being so nervous after I meet them all.
 Describe yourself in three words: Organized, hard working, and creative!
 Out of all the props offered, what's your go to when you get a chance to get in the photo booth? Ohhh man! I'm a sucker for a good hat. I'm a huge fan of the Viking helmet but in one of our prop boxes we have a Cleopatra head dress and let me tell you, IT'S AMAZING!
 Enclosed booth or open air? Why? Open air! Have y'all seen our new gold sequin background?! It's the best and I wish I could have set up in the bedroom at all times. Our photo booths give the best selfie lighting, just saying! I also love the amount of space the open air booth gives you. However, whether a photo booth is open air or enclosed I'm going to have a ball regardless!
 What's the craziest thing you've seen happen in the photo booth? Oh, y'all don't even know! I've seen it ALL, on a man and a woman and I'll just leave it at that.
 What makes having a photo booth at an event worth it? I truly think it allows the bride and the groom to relax a little more. They're not having to cater to their guests the entire time because it provides non-stop entertainment to the guests all night long.
 Where do you see Snapqube in five years? Based on the amount of events we already have booked for 2017 (like it is insane y'all) I see Snapqube only doing BIGGER and BETTER things!