Are you currently on the fence about getting a photo booth for your big day? We've got a few reasons why you should absolutely make the splurge for your wedding – we promise you won't regret it!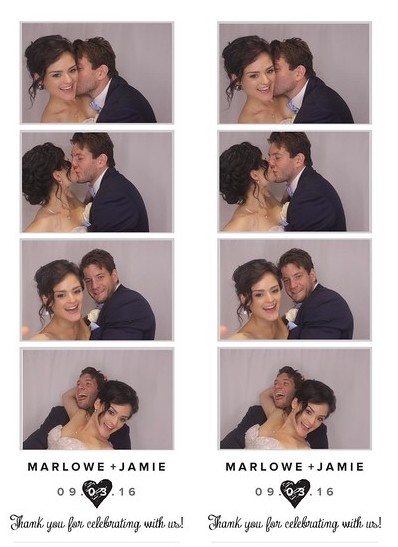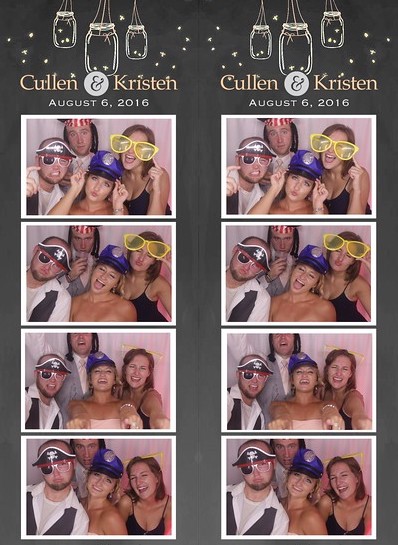 Entertainment, duh!
Your guests will love it! We've seen guests of ALL ages go into our photo booth (sometimes hesitant) and then come out with the biggest ear to ear grin we've ever seen; and more than likely they continue to come back for more pictures throughout the night. It is very true when they say, a photo booth is for everyone. From the flower girl and the ring bearer to the grandparents of the bride and groom, a photo booth is suitable for everyone. Once your guests get in, it will be hard to pull them away. I mean, who doesn't love getting instant photos to remember such a fun and memorable night? I know we sure do!
It'll be the talk of the town!
We can't even begin to tell you how many brides and grooms come back to us saying, "Everyone raved about the booth and your employees, we're going to recommend you to everyone we know!" It's amazing what a photo booth can do for you and your guests. A lot of the time, your guests at your wedding are friends and family that you don't always see as often as you'd like. Our photo booth can allow you and them, to get memorable photos that they can take back home with them that will last a life time.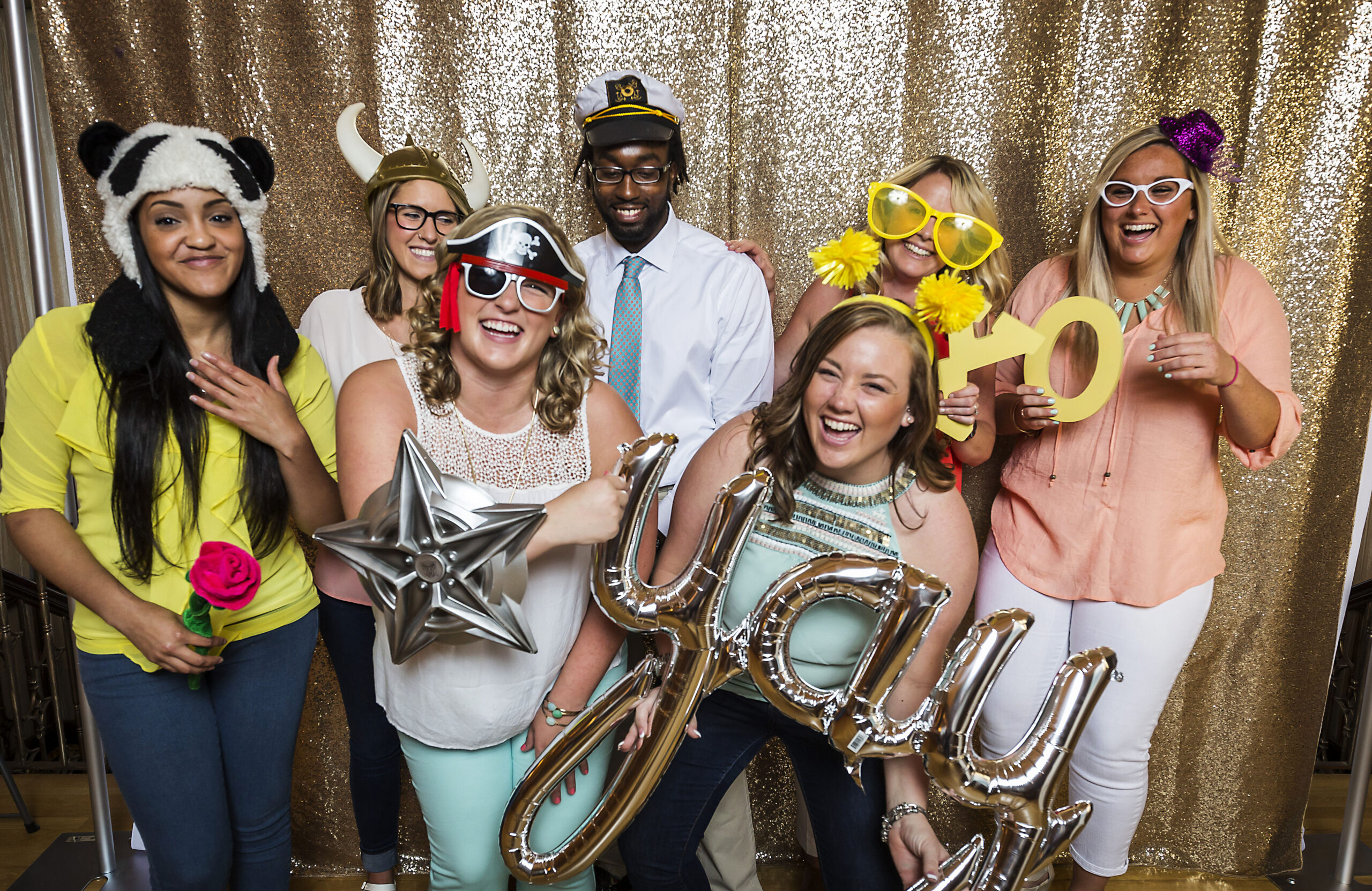 Quality, quality, quality.
With photo booths becoming the "IT" thing to have at a wedding, the quality of the pictures surely must be amazing, right? RIGHT! All of our photo booths are equipped with the latest professional equipment. We always preach to potential clients "you 100% get what you pay for" and we pride ourselves in making sure we provide you with only the best! From the design of our photo booths, to the design of your custom strip, to the props, and to the printed keepsake photo your guests receive after they leave the booth – we deliver only the best. We couldn't tell you how many people purchase more prints of their pictures from our online photo hosting site because the photos are such high quality.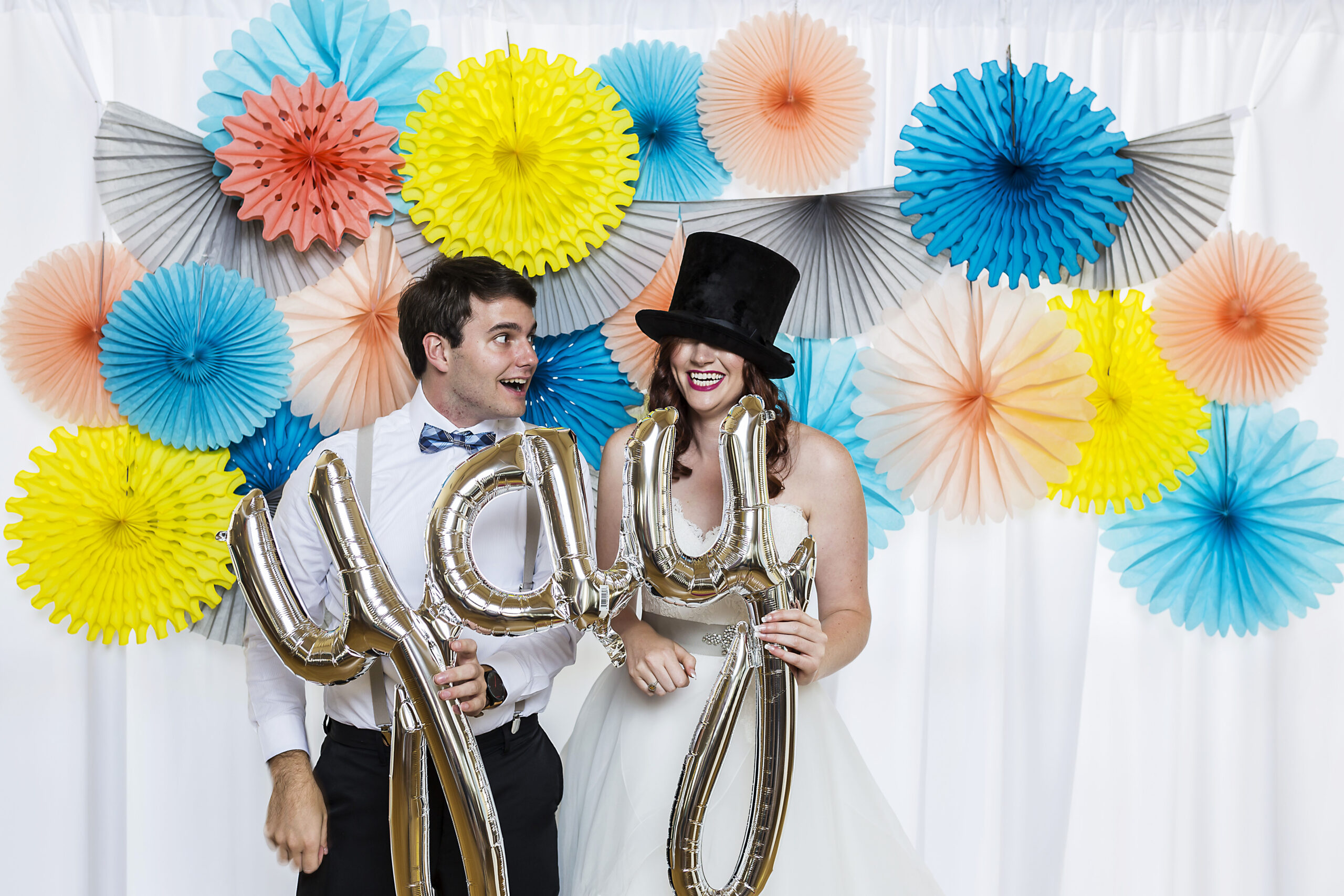 Customize it!
Are you having a garden themed wedding, or a beach themed wedding? We can do that! We have an absolutley amazing graphic designer, who will customize your photo strip to fit your big day.  On top of your strip, we will make sure to throw in any extra props that we have that would fit your theme. We also now offer, an open air concept photo booth. This type of booth allows you to fully customize your backdrop if you choose to do so! The options are endless.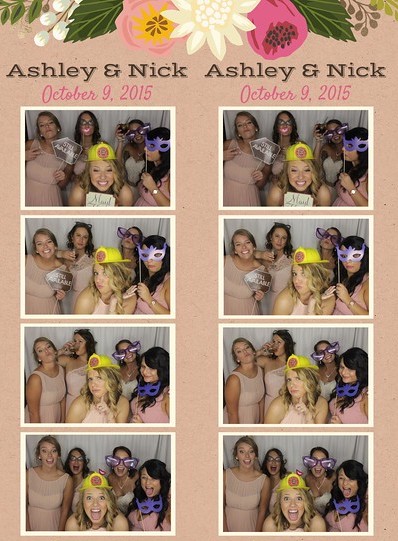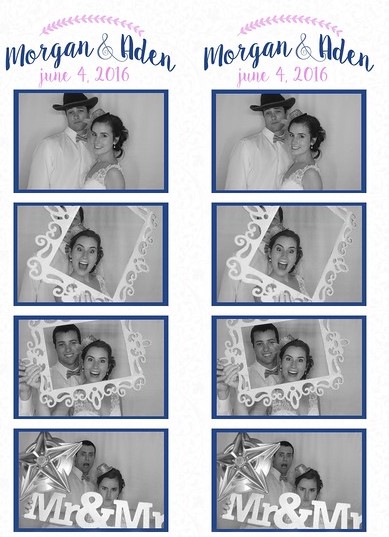 Fantastic party favor!
We've seen many Pinterest-worthy favors at the weddings we've worked, and they're great don't get us wrong! But, use our prints as your favors! They are the favors you're going to see hanging up on their fridge (and not in the trashcan), or posting on Facebook and Instagram. We offer numerous package add-ons that allow you to provide extra prints of the strips for your guests, or even allow them to pick one picture out of the four they took, and turn it into a 4×6 print; right there on the spot! One of our couples provided plastic frames and magnetic pockets for their guests to take home to put their photos in, which we thought was brilliant!
We've got the guestbook covered too!
We honestly think this is our selling point when it comes to our bookings. We provide all our couples with a scrapbook that contains a strip of every picture that was taken throughout the night. One our employees makes sure your guests are having fun in the photo booth, while the other is assembling a scrapbook on the spot as the guests come out. As each strip is placed inside the scrapbook, your guests are asked to sign it. From signing their names, to writing "we love you," all the way to inside jokes – the guests have a lot of fun writing something in your scrapbook beside their picture. At the end of the night, we find you and gift you with a one of kind scrapbook that will leave you laughing and reliving the night the next morning.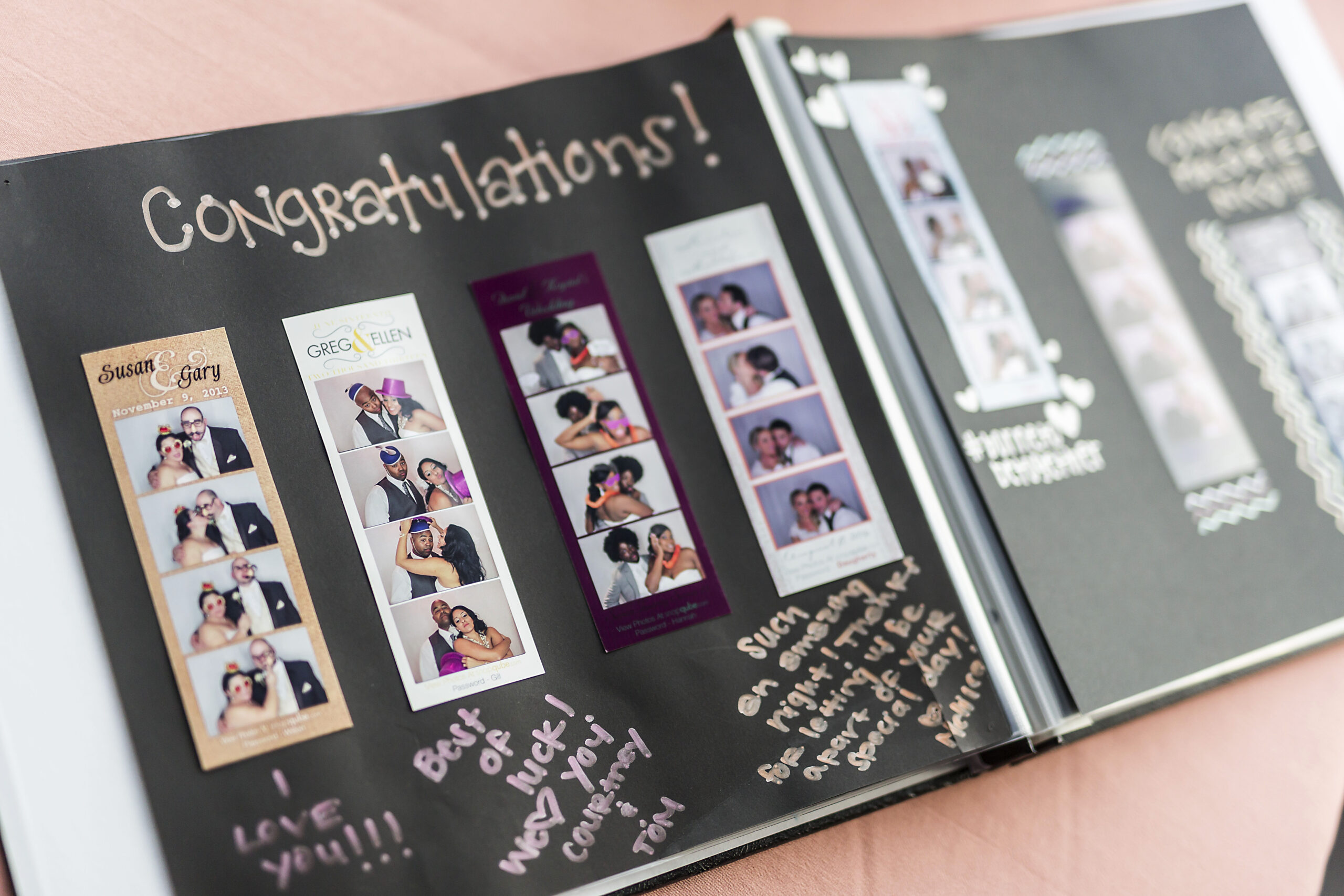 Oh no, did you or a guest lose a picture? Don't worry, we've got it covered.
Sometimes guests misplace their photo strip, and contact us the next day wondering if we can give them another one. YES, we can! We upload all of the pictures from the night onto an online photo hosting site, and we'd be more than gladly to direct you and your guests there. At the bottom of every photo strip, we provide our website and a password customized to each couple. If you or your guests go to our website and type in the password, you'll be able to find your desired strip and print it out again; and you can even choose an individual picture from a strip and print that. We send out a CD to all of our couples a few days after their big day, that will have all the pictures from the night on it as well.
We hope these little bits of information have helped you see why a photo booth is such a great touch to any event, and we hope that you'll choose us to be a part of your big day!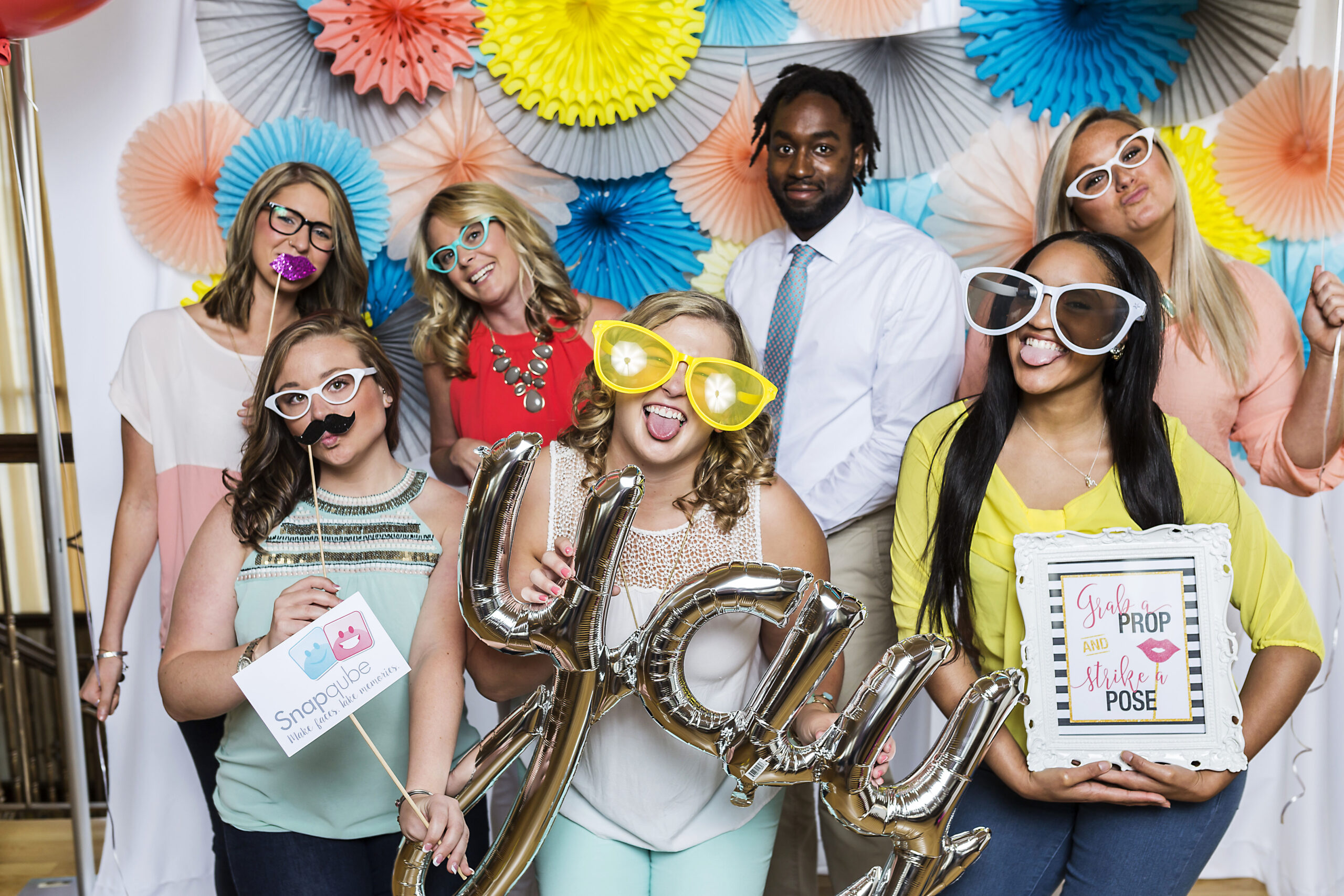 XO, Snapqube